Doctors & Staff
Meet the experienced and friendly doctors and staff who make Eyecare Associates Marshalltown the leading provider of vision care products and services in Marshalltown, Conrad and Toledo.
---
Dr. Abie R. Chadderdon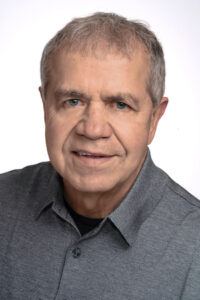 Dr. Chadderdon graduated from the Southern California College of Optometry in 1981. He practiced four years at Eisenhower Medical Center in Ft. Gordon, Georgia, while serving in the U.S. Army from 1981 to 1985; joined Dr. Hinson in partnership. Shortly thereafter, the practice name was changed to Family Eyecare Associates and the Tama office was added. Dr. Chadderdon has additional training in pathology, contact lenses and children's vision. He is a member of New Hope Christian Church, Noon Lions Club, Rotary Club, Chamber Ambassador, and he coaches youth sports. He has served on the Junior Achievement Board, Mid-Iowa Community Action Health Advisory Board, YMCA Board, and the United Way Executive Committee serving as co-chair in 2006. He is an active member of the Iowa Optometric Association, currently serving as Eyecare Benefits Chairman. He served as the 1995-1996 president and was named young OD of the year in 1986 and OD of the year in 2007. He is active in the American Optometric Association serving as state representative on two committees. He serves as a member of the Iowa Army National Guard now retired at a rank of Lt. Colonel.
---
Dr. Connie J. Feldman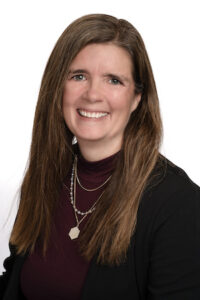 Dr. Feldman graduated from the University of Northern Iowa in 1994 with a Bachelor of Science Degree, majoring in Biology and Chemistry. She attended The Ohio State College of Optometry. She completed an externship at Dayton, VA Hospital during the fall of 1997. She also completed an Interdisciplinary Specialization in Geriatric for Health Professionals. She graduated from the Ohio State College of Optometry in 1998 with a Doctorate of Optometry. She was named the William Feinbloom Low Vision Student of the Year. She joined Eyecare Associates in July of 1998. She has served on the Young Professional Executive Board, the Noon Optimist Board, and the Elim Children Center Board. She has coached for her children at Marshalltown Area Soccer Club. She completed the Iowa Valley Leadership course in 2001. She is a member of Saint Francis of Assisi Parish, Noon Optimist Club, the Iowa Optometric Association and the American Optometric Association. She has three beautiful little girls at home.
---
Dr. Collin Edwards
Dr. Collin Edwards is from Spencer, Iowa. He graduated from the University of Iowa in 2015 with a Bachelor of Science Degree in Human Physiology. He attended the University of Missouri-St. Louis College of Optometry completing externships at OMNI Eye Services in Atlanta, Saint Louis University Ophthalmology, and Vance Thompson Vision in Sioux Falls. These externships provided him the opportunity to work closely with cornea, cataract, oculoplastic, glaucoma, and retina specialists performing evaluations and post-operative examinations while also observing surgical procedures. He graduated from the University of Missouri-St. Louis College of Optometry in 2019 with a Doctorate of Optometry.
Dr. Edwards is a member of the American Optometric Association and the Iowa Optometric Association. He also completed the Iowa Valley Leadership course in 2020.
Dr. Edwards is a devoted fan of Iowa Hawkeye basketball and football. He enjoys playing tennis, basketball, and weightlifting in his free time as well as spending time with his dog Chief.
---
Dr. Kacie Monroe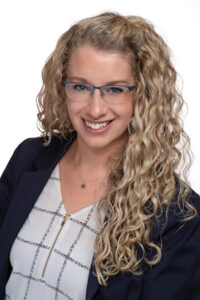 Dr. Monroe grew up on a farm near Conrad, Iowa and went on to attend the University of Northern Iowa in Cedar Falls, where she earned a Bachelor of Science in Biology in 2007. In 2011, she graduated from optometry school at Indiana University in Bloomington, Indiana. While in optometry school Dr. Monroe was active in volunteer organizations including VOSH (Volunteer Optometric Services to Humanity), Dr. Monroe also earned the David J. Kerko Low Vision Award and was honored as one of the Most Influential Women in Optical by Vision Monday magazine.
Dr. Monroe completed externships at a private practice in Kentucky specializing in pediatrics and vision therapy services, and at Bascom-Palmer Eye Institute, a world-renowned eye care hospital in Miami, Florida. In 2017, Dr. Monroe earned her Fellowship in College of Optometrists in Vision Development. This designation demonstrates her dedication to functional optometry and vision therapy.
For the past 10 years, Dr. Monroe has practiced at a private practice in Cedar Rapids, Iowa. While in Cedar Rapids, she practiced full-scope optometric care for the entire family, including vision therapy and neuro-optometric rehabilitation services. She is excited to be back in the Marshalltown area with her husband and two children.
---
Austin B. Chadderdon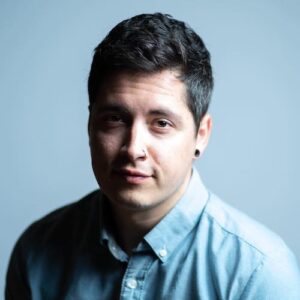 Austin Chadderdon is Eyecare Associate's only certified optician. He gained his license in 2018 after becoming a board member for the Opticians Association of Iowa.
Austin graduated from the Essilor University Management Development course in Dallas, TX in 2016. He brings this experience and education to the position of CO-CEO along with Rachel Brodin. Austin also oversees the management of our optical department's training, inventory, accounting, and supply chain management.
Austin participated in the Iowa Valley Leadership Program in 2019 and is involved with the community as a musician entertaining at local venues. He is an avid reader and writer and enjoys traveling and spending time with his family outdoors.
He enjoys his work at Eyecare Associates knowing he is immersed in the community. Every time he is out at the store, local eatery or otherwise, he recognizes his work in the glasses the public is wearing.
---
Rachel Brodin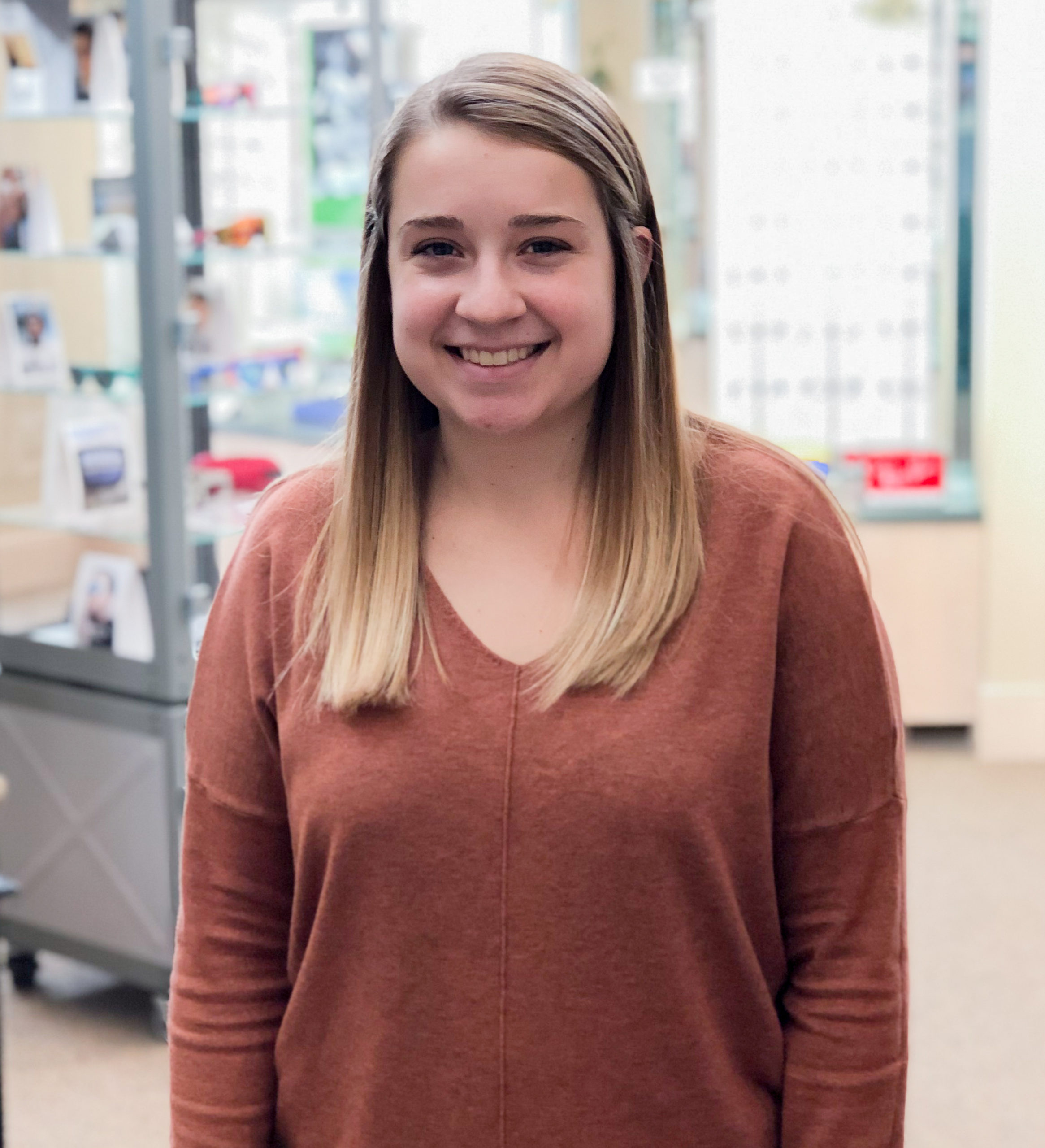 Rachel is from Davenport, IA. She graduated from the University of Northern Iowa with a degree in Organizational Leadership Management B.A., with a minor in Leisure Youth and Human Services.
Rachel moved to Marshalltown three years ago and started working at Eyecare Associates shortly after. She most enjoys her job because of the great patients. She also enjoys seeing the staff grow and learn new skills.
She and her husband have three adorable fur babies; a cat and two dogs. She loves to travel whenever she gets the chance and is always excited for the next adventure!
---
Lori Ruddick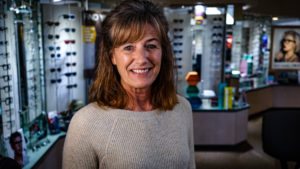 Lori was born and raised in Hampton, Iowa. She moved to Marshalltown in 1978 and attended Marshalltown Community College for two years. Lori has now been in the Marshalltown community for 42 years and has on staff at Eyecare Associates for nearly 25.
Lori most enjoys helping people and the relationships she has built with patients.
She has been married to her wonderful husband, Kim, for 35 years. Lori has two grandchildren, Kellen and Clayton. They are the sons of her son Jeremy and his wife Joanna. She also has a son Austin who is married to Stephanie.
Lori enjoys reading, spending time with friends and family and walking her dogs. In the past, she has raised four puppies for the Guide Dog Foundation in New York.
---
Marcella Castillo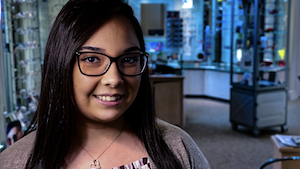 Marcella Castillo has been on the Eyecare Associates Team for one and a half years. In that short time, she has made a significant and outstanding impact. Marcella has recently accepted the position of Optical Manager.
She was born in Des Moines but has lived in the Marshalltown area all her life. She is grateful to have been raised here. Marcella graduated from MHS in 2014.
Marcella has an older brother who recently graduated from DMACC. He lives in Ames with his girlfriend. She also has a younger sister along with two half-sisters who live with her father in Mexico.
She enjoys spending time with her friends and family. She also loves to travel with her boyfriend of 7 years.
Marcella has been an invaluable asset to Eyecare Associates. In her own words,
"I really enjoy the people I work with. I l get to help the patient choose frames and educate them about our various lens options. Seeing how excited patients are when they put their new glasses on and are able to see so much better is extremely gratifying."
---
Alejandra Fonseca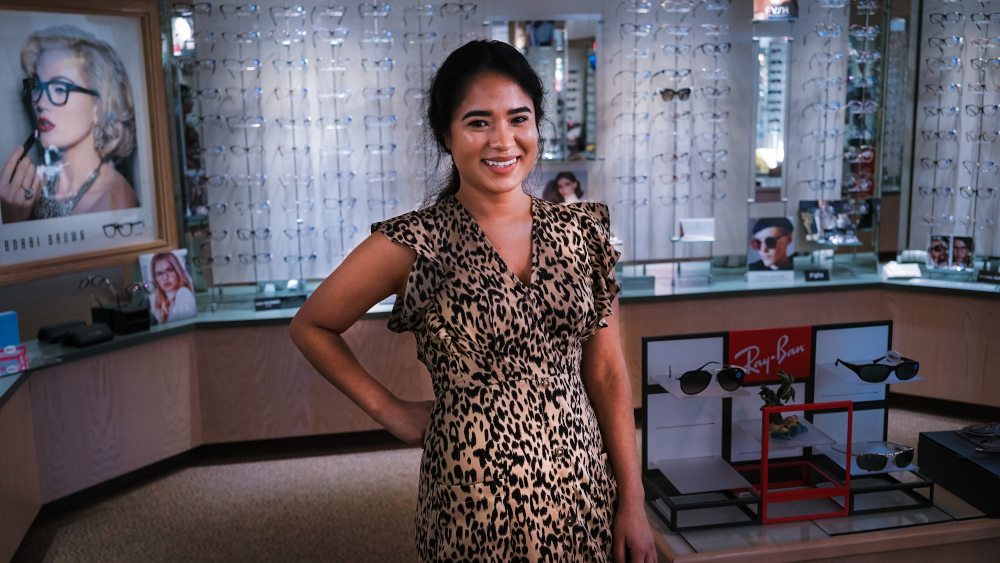 Alejandra Fonseca has worked as an optician at Eyecare Associates for six years. She has been an integral member of the optical team. Alejandra is well-liked by staff and a favorite of many of our guests.
She moved to Marshalltown from Chelsea, Iowa eight years ago. She was born in Atlanta, Georgia. Alejandra graduated from South Tama High School in 2011 and also graduated from the Iowa School of beauty in Marshalltown.
Alendara feels blessed that her family members live in Marshalltown as she enjoys a close relationship with them. She especially loves spending time with her handsome young son, Alex. Alejandra likes to unwind with friends, watch movies and indulge in great food.
As an optician, she most enjoys the fashion of eyewear. She loves using her own unique personal style and fashion knowledge to help patients discover attractive and cute glasses.
---
Charlotte Chadderdon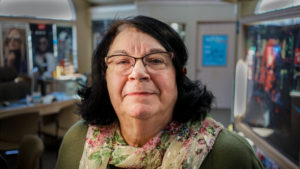 Charlotte grew up in South Dakota. She was married and lived in Florida, Virginia, and Oklahoma. In the early 90's she moved to Kansas and managed her parent's motel for ten years. At that time she completed her college education gaining both a Bachelor of Science and a Master of Arts in Christian Ministry. After living in Oklahoma once again she moved to Marshalltown to live with her mother. She first worked at the Willows before joining the staff at Eyecare Associates.
Charlotte enjoys working with a great team and gracious patients. She says, "Besides the great people I am privileged to work with I enjoy the relaxed atmosphere. After being in health care and a supervisory position it is so nice to work where people aren't stressed and stretched to their limits all of the time."
She attends New Hope church and is involved in a bible study group. While working at The Willows she led a daily bible study for residents which she found fulfilling and enjoyable.
When Charlotte is not at work she spends time with her Mother, reading, doing crochet and embroidery, and writing. Charlotte has three adult children, six adult grandchildren and one great-granddaughter who she stays in close contact with regularly.