Hey Kids, Your Glasses Are Awesome!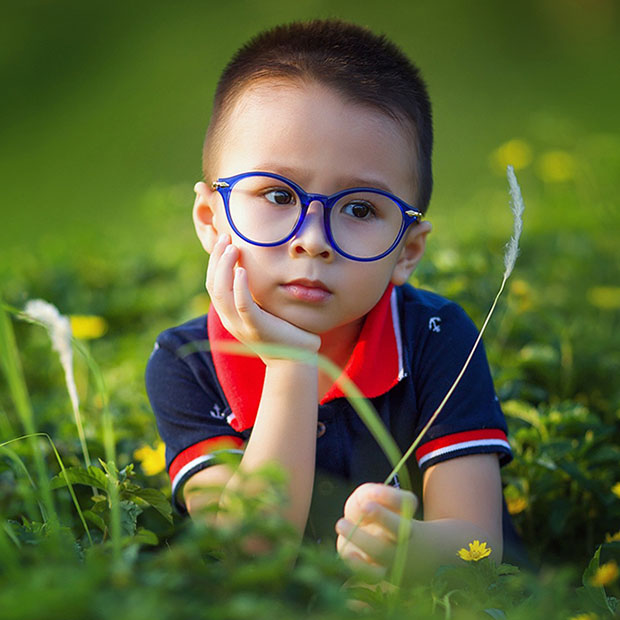 Kids often struggle to adjust to having to wear glasses.
They're already used to not being able to see clearly; the strange feeling of the glasses on their nose and ears and possibly teasing from their peers might not seem like a great trade for clear vision. What is a parent to do? Good eyesight is crucial for so many things in a growing child's life, particularly education, so how can we help our kids gain a more positive outlook on their glasses?
The Glasses Should Fit and Be Age-Appropriate
No kid is going to want to tolerate wearing ill-fitting glasses. They'll find every opportunity to take them off or "forget" them when getting ready for school. If your child's current glasses don't fit, we have tools to adjust them at our practice. It could also be time for a new pair. Kids grow fast, and the glasses they wear should be right for their age. In fact, glasses that fit properly can even be part of the "big kid" image they want!
Set Glasses-Wearing Goals Together
Sometimes a child doesn't want to jump directly into wearing glasses all day, but you can help them get there with some glasses goals. You can even start out as small as asking them to wear their glasses for just half an hour each day if that's what it takes. Then you can gradually increase the duration of time until they're wearing their glasses all day! If it helps, sweeten the deal for them with some small prizes for reaching each milestone in their glasses journey.
Give them Good Glasses-Wearing Role Models
Make sure your child knows that they aren't the only one who has to wear glasses. There are some pretty awesome people in real life and fictional characters who wear them too. Harry Potter wears glasses, Tony Stark sometimes wears them to interface with his technology, and don't forget about Superman and Supergirl! Your child is in some truly awesome company.
Stay Strong and Use Reinforcements
We know how hard those big adorable eyes can be to resist, but you have to stay strong about your expectations for your child wearing their glasses. For situations where you're not there to make sure they're keeping the glasses on, feel free to enlist the help of teachers, babysitters, and other authority figures too!
Encourage Your Child to Choose Their Own Frames
One of the best ways to encourage your child to love their glasses and feel confident wearing them is to let them pick their frames! Glasses can be an amazing expression of personal style. Don't worry if they choose something with bright colors that might not match much of their wardrobe. The goal is to get them used to wearing their glasses, and they'll never feel cooler than when they're wearing the glasses they chose themselves.
The Eye Doctor Is Your Best Ally
No one knows glasses or how awesome they are better than the team at our practice, and we're happy to share our enthusiasm with your child if they're having trouble adjusting. Give us a call or bring your child to our office if you'd like more advice on helping them love their glasses!
We love having you and your child as members of our practice family!
Top image used under CC0 Public Domain license. Image cropped and modified from original.
The content on this blog is not intended to be a substitute for professional medical advice, diagnosis, or treatment. Always seek the advice of qualified health providers with questions you may have regarding medical conditions.