Protecting Your Eye Health While You Work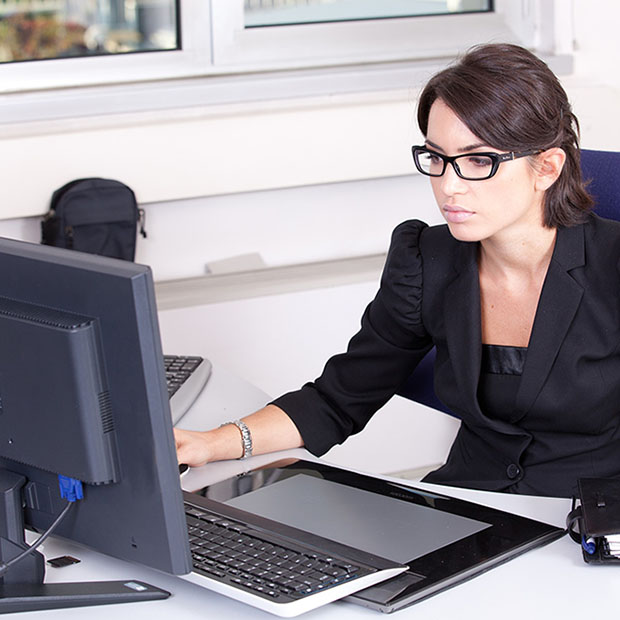 March is Workplace Eye Wellness Month, and we want to make sure our patients have all the information they need to protect their eyes at work!
The type of job you have will determine what kinds of risks your eyes may be in for injury or health issues, so we're going to break them up into two main categories: jobs that mainly involve physical labor and office jobs.
Preventing Workplace Eye Injuries
Jobs such as construction or manufacturing work, mining, carpentry, auto repair, electrical work, plumbing, welding, and maintenance are all high risk jobs when it comes to eye injury. More than two thousand workers in these fields have to seek medical attention for an eye injury every day.
That may sound alarming, but the good news is that 90 percent of these injuries can be prevented or at least reduced in severity through the use of proper safety equipment. If you work in one of these fields, make sure you wear your safety glasses, goggles, face shield, welding helmet, or full-face respirator as needed.
Office Jobs And Eye Safety
If you have an office job, you likely don't face the same risks of eye injuries, but your work conditions could still be hazardous to your eye health. The most common eye problem for office workers is computer vision syndrome, also known as digital eye strain.
Constantly staring at your computer screen might not cause permanent damage to your eyesight, but it can make your eyes tired and irritated and negatively impact your work, with symptoms including headaches, neck pain, inattentiveness, back strain, and dry eye.
A few ways you can fight back against that eye strain include repositioning your screen, following the 20-20-20 rule, making an effort to blink more often, using artificial tears, drinking plenty of water, using an anti-glare screen or wearing computer glasses, and, finally, scheduling regular eye exams!
If you don't know what the 20-20-20 rule is, just watch this short video:
Bring Us Your Questions About Workplace Eye Safety
If you've been experiencing eye strain symptoms or think you might not be doing everything you can to protect your eyes from injury at work, just call us or stop by. We'd love to answer any questions you have, because we want all of our patients to be able to do their best work without having to fear for their eyes' safety!
Make sure you're showing your eyes some love!
Top image used under CC0 Public Domain license. Image cropped and modified from original.
The content on this blog is not intended to be a substitute for professional medical advice, diagnosis, or treatment. Always seek the advice of qualified health providers with questions you may have regarding medical conditions.